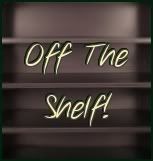 Ok, it has been said that I have a bit of a book-buying issue. I buy lots and lots (although lately I have been a very good girl) and I don't read nearly enough! So, the
Off the Shelf
challenge seems the perfect one for me!
This challenge is to read those books you own copies of, but have never got around to reading. I signed up for the
On A Roll
challenge level – which I have to read
50 books
for! Since I am hoping to read at least 75 this year, I feel like I should actually manage to meet this challenge... right?
The challenge lasts all of 2011, and you can
sign up
for it
here
!
Stealing Heaven by Elizabeth Scott
My Soul to Take by Rachel Vincent
Mercy by Rebecca Lim
Immortal Beloved by Cate Tiernan
Friday Night Bites by Chloe Neill
Delirium by Lauren Oliver
Firmin: Adventures of a Metropolitan Lowlife by Sam Savage
Night Shift by Lilith Saintcrow
Sea Change by Aimee Friedman
Wake by Lisa McMann
Blood Promise by Richelle Mead
Lover Revealed by J.R. Ward
Beauty by Robin Mckinley
Moloka'i by Alan Brennert
The Iron Hunt by Marjorie M. Liu
The Hunger Games by Suzanne Collins
Night Life by Caitlin Kittredge
Once a Witch by Carolyn MacCullough
Pride by Rachel Vincent
The Touch of Twilight by Vicki Pettersson
Bitten by Kelley Armstrong
The Glass Demon by Helen Grant
Cry Wolf by Patricia Briggs
The Society of S by Susan Hubbard
Heat Stroke by Rachel Caine
Beastly by Alex Flinn
13 to Life by Shannon Delany
The Eternal Ones by Kirsten Miller
Dark Goddess by Sarwat Chadda
Dead as a Doornail by Charlaine Harris
Succubus Dreams by Richelle Mead